Don't the snacks too. So you've picked out your movie for the night, you've gone down to Blockbluster and rented it.....you have your blockbuster care package or your Marilyn Monroe popcorn bucket and you're all ready to pop in that fav movie........which movie is it?
Whichever movie it is.......sit back relax and enjoy!!
Matinee Idol Gift Basket
$67.99
* Give them a night of at-home movie fun
* Original Whirley Pop popcorn popper full of treats!
* Box of Real Theater Popcorn
* 4 movie theater boxes of candy
* Matching card with your personal sentiment
Movie Night Gift Basket
$29.99 to $49.99
* Movie-themed gift basket
* Popcorn, candy, and more
* Playful "movie tickets" to add ambiance to a night at home
* 2 sizes available - shown in large size
* Collectible 10-inch film-reel tin
Movies for Two Gift Basket
$49.99
* Tasty treats for movie night at home
* Popcorn, Cokes, and concession stand candies
* Includes $10.00 Blockbuster gift card
* Cheerful red gloss box with yellow bow
* Dimensions: 10L x 12W x 10H inches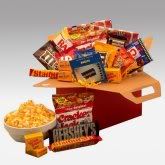 Blockbuster Night Gift Basket
$38.99
Tasty treats for movie night at home
Popcorn and concession stand candies
Includes $5.00 Blockbuster gift card
Cheerful red gable box with festive bow
Dimensions: 10L x 12W x 8H inches